Meeshu Agnihotri
UX / Product Designer
Made with
EPIEVIDENT
Comparing & Forecasting Global Disease Case Count Data
10 WEEKS . 4 INTERNS . 1 MVP WEB APP . RUNNERUP
I worked on EpiEvident during a 10­ week-long summer internship within the Data Science and Analytics division at Pacific Northwest National Lab, Richland WA. It was an intense experience where I worked with three other interns consisting of 2 developers and an epidemiological statistician to build an MVP web application. EpiEvident won the second place in the BSVE mobile app competition and was lauded for its ease of use and interactivity.
Project Brief & Methodology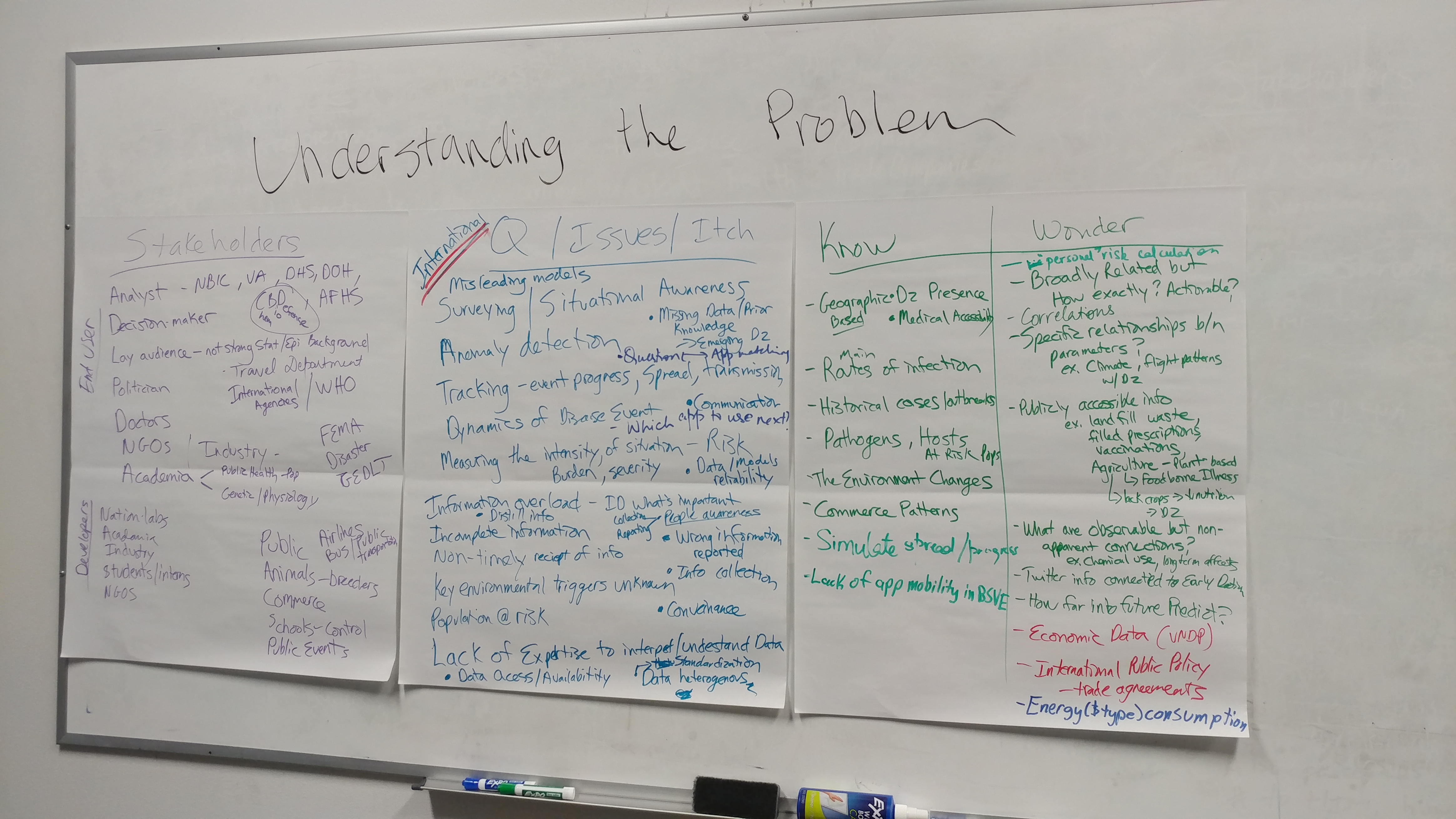 The goal of the project was to create a proof of concept, bio­surveillance web application. Two of our goals were to build an application that addressed the needs of bio­surveillance analysts and also fit with their current ecosystem.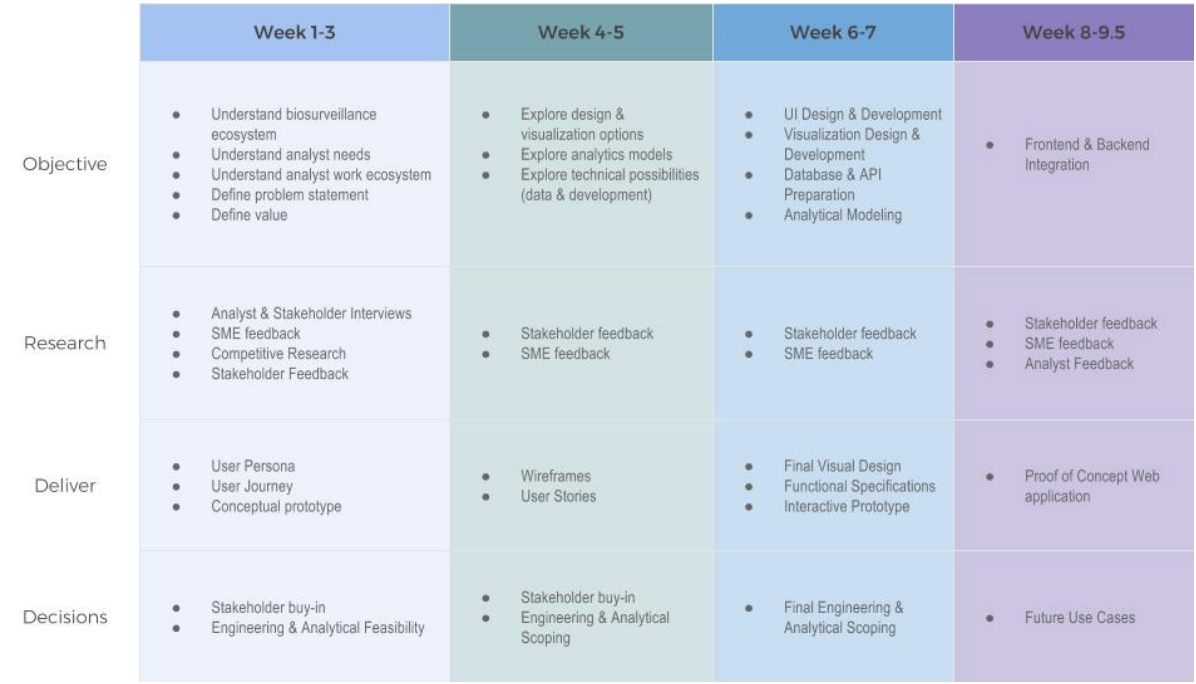 Over the 10 weeks, our team understood the users (analysts) and their ecosystem, defined their analytical needs, ideated potential designs and prototyped an interactive proof of concept. At different stages of the project, we sought feedback from domain experts, designers, engineers and analysts. Here is a neat timeline summarizing our design and development process. It also highlights the research methods, deliverables and the objectives of the different stages of the project.
Interviews
Based on 3 analysts' interviews, we presented 2 product concepts­ EpiEvident & EpiEclipse­ to stakeholders. We sought their feedback on which idea they felt was more valuable, immediately useful and producible within the time constraints. After much discussion and deliberation, we went ahead with EpiEvident.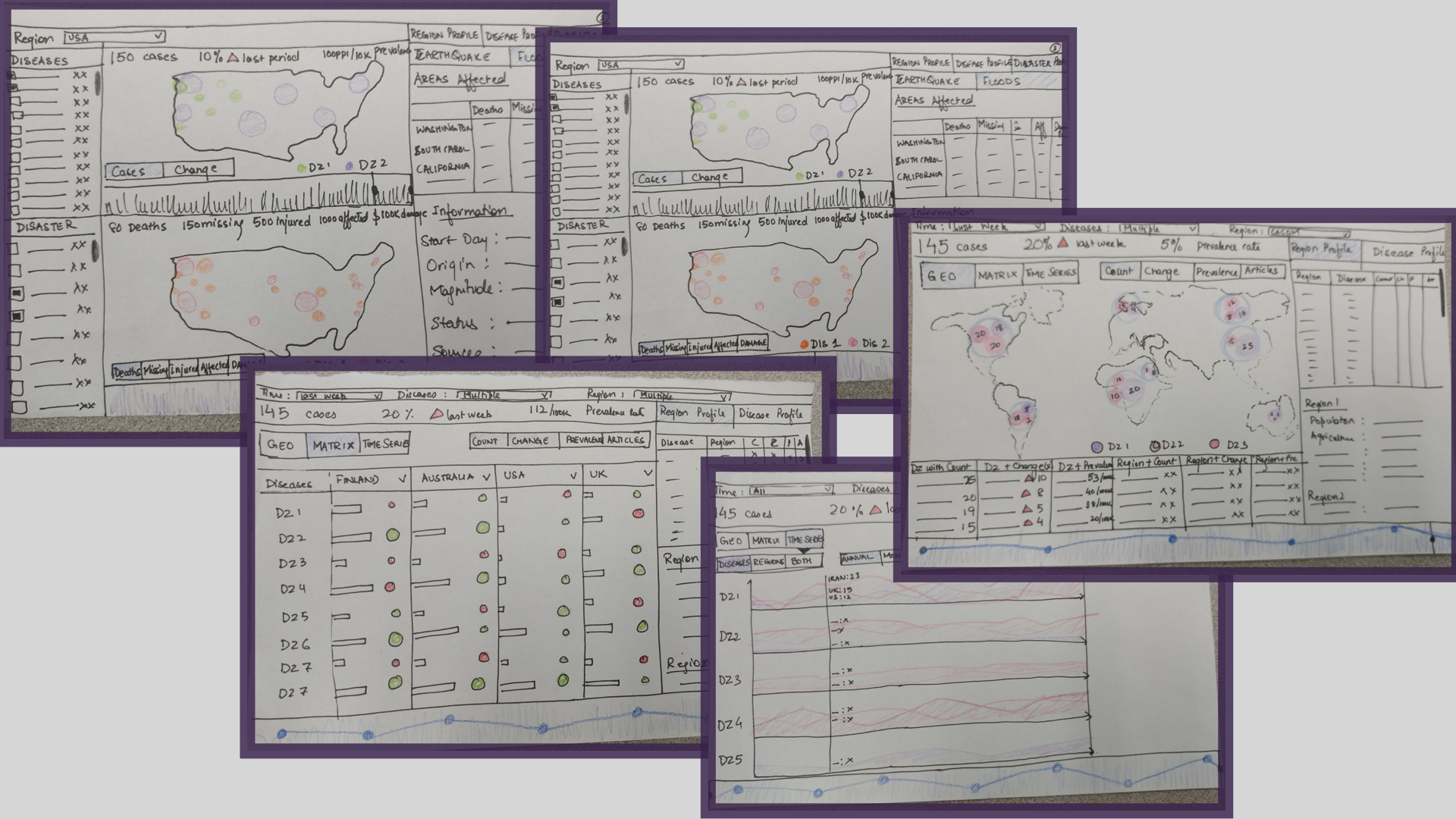 Sketches
Next, we identified different analytical tasks and explored several visualization options for each of them such as Scatterplot View, Geo View & Matrix view.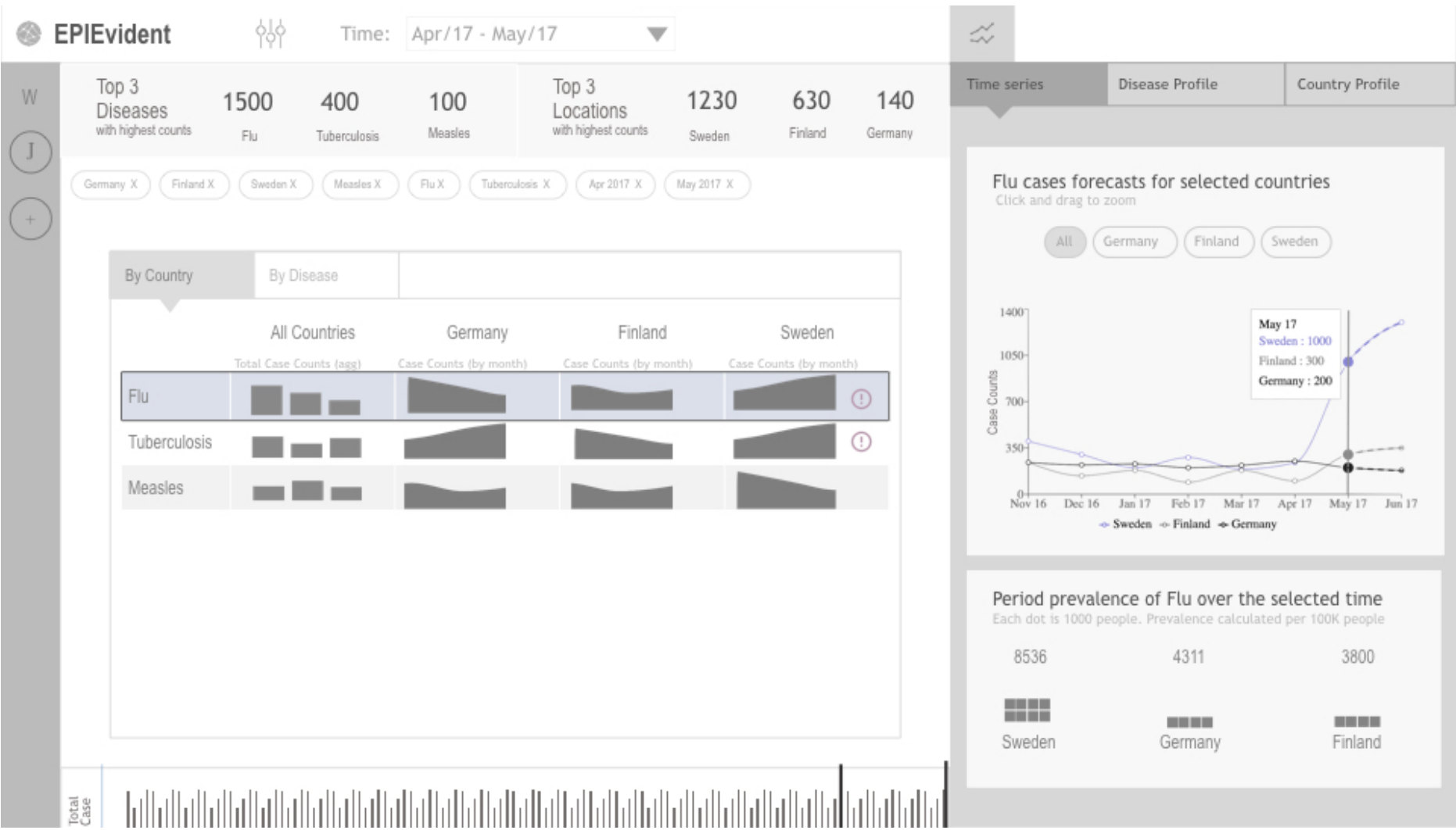 Wireframes
However, through multiple discussions with visualization and design experts, we decided to proceed with a combination of matrix view and a line chart.
An interesting feature that came up during our discovery phase was "Alerts". Simple trends and insights were alerted to analysts to ease their sensemaking process.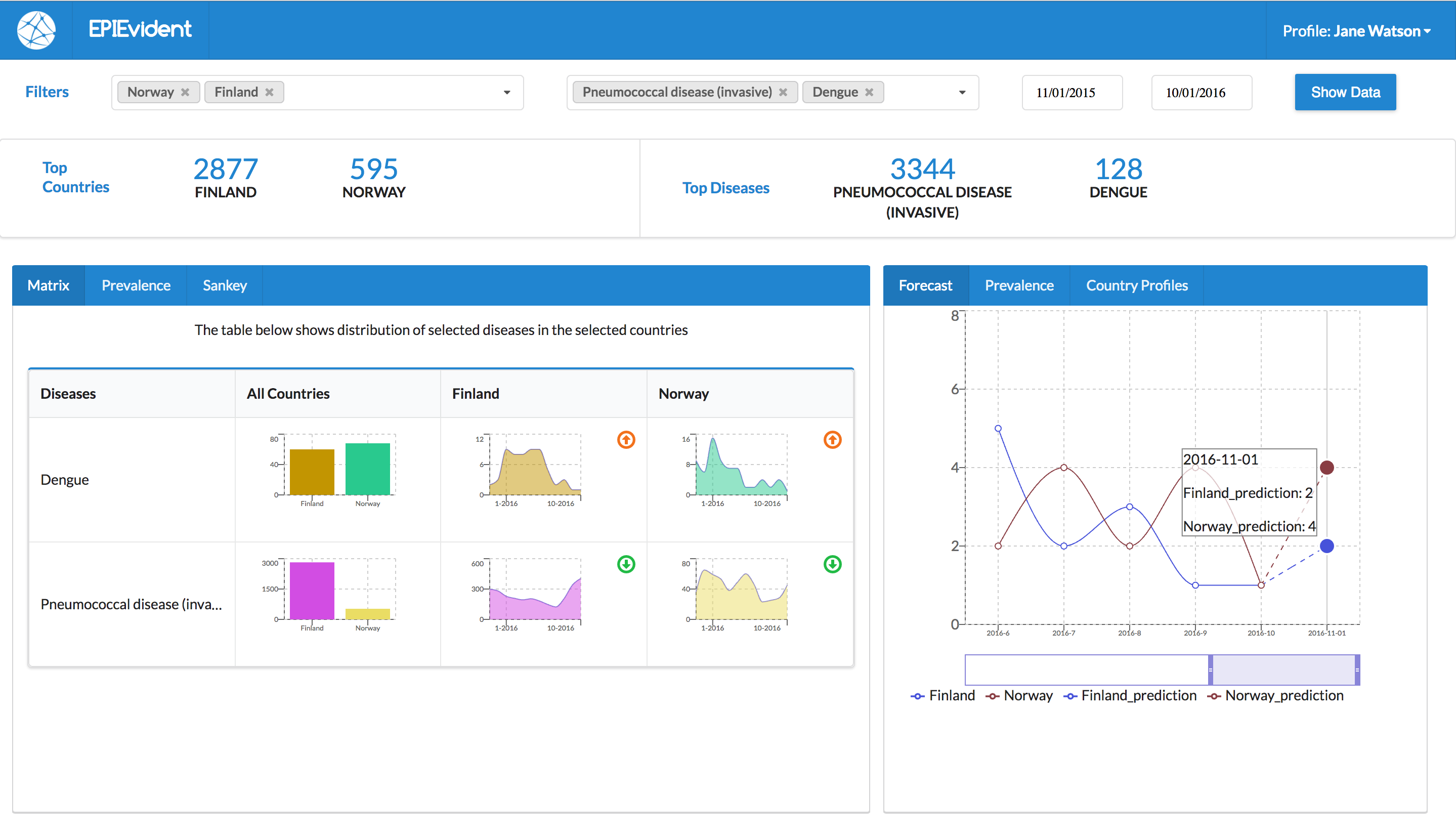 UI Design & Development
Finally, we developed the MVP using Reactjs, Flask and with Semantic UI framework according to Google's Material UI design specifications. Further, we created interactive & user-friendly visualizations from Recharts.

Overall, the web application was well received by the analysts and the stakeholders. They found the user interface intuitive and straightforward. They also liked the collaborative aspects of the application. For future work, they suggested that generalizing the use case to different levels of specificity would further increase its utility.